From an 1873 Plat Book:
The town of Cross Plains was first settled in 1840, by Edward Hugh and John Campbell. They were soon followed by Jno. W. Thomas, Berry Haney, Thomas Arland, and S. Bell. It was organized in 1847, with Ripha Warden, Supervisor; Wm. Howery, Assessor; and Berry Haney, Clerk. School districts were organized the same year, and school opened soon after.

In the south part of the town is an elevation called Pine Bluffs. This is a body of rock, on the top of which grows a clump of pine trees. There are some high bluffs in the north part of the town near Cross Plains Village. About two-thirds of the town is productive prairie.

From the Cross Plains-Berry Historical Society:
In the fall of 1970, a local historical society was formed. It was decided to include the Village of Cross Plains and the Townships of Berry and Cross Plains. In the fall of 1971, members of the historical society took a tour of the Township of Cross Plains. They visited White Crow's grave on the Rodenschmit farm, the terminal moraine, the old stone building on the Wilkie farm, Mr. Coyle's place at Pine Bluff, Observatory Hill, the Stan Herrling farm, and Chimney Rock on the Erwin Howery farm.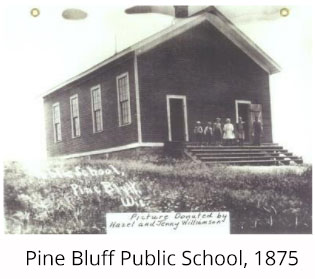 The Town of Cross Plains is in west-central Dane County, Wisconsin. It has a total area of approximately 35.4 square miles and a 2021 population of 1,580. The terminal moraine, or farthest westward extent of the most recent Ice Age glacier runs through the northeastern corner, making most of the town a part of the 20,000 square-mile region known as the Driftless Area.

The Town of Cross Plains was likely an oak savannah ecological community prior to territorial settlement, although today it is one of broad, flat valleys with productive agricultural soils bordered by steep hills and deep coulees. Two large valleys are formed by the Black Earth Creek watershed in the northern half of the town, and the Sugar River watershed in the southern half. As an unglaciated landscape, the Driftless Area is of considerable geological and biological interest, and there is a Cross Plains Unit of the Ice Age National Scientific Reserve and a newly designated Cross Plains State Park within the Town of Cross Plains. The rural settlement of Pine Bluff is in the south-central part of the Town of Cross Plains, and the Village of Cross Plains adjoins the town on its northern boundary.