Cans


Empty and rinse aluminum and steel cans

Aerosol cans are recyclable


No lids, unless placed in can with top of can crimped shut

Place in your recycling container




Glass


Bottles and jars

May be any color

Empty and rinse

Labels are okay

No lids


No broken glass

Place in your recycling container

Paper


Office paper and shredded paper


Place in clear plastic bag and seal

Cardboard


Cereal boxes, paper tubes:

Must be flattened

Can be placed in a separate clear plastic bag and put out with the recycling.

Cardboard boxes:

Must be flattened


Must be bundled and tied

Cartons (TetraPaks)


Food and beverage cartons


Empty and replace cap

Place in your recycling container




Plastic


Must have recycling symbol #1, #2, or #5.

Empty and rinse


Replace caps and lids

Place in your recycling container

Newspapers, Magazines, Catalogs


Place loose in a separate recycling container or paper bag

Can be bundled and tied with twine or bagged

May be placed next to cart


Must be dry




---
Do not

recycle these at the curb:

Scrap metal

Plastic bags

Food waste

Paper plates and cups

Ceramics and dishware

Broken glass, windows, and mirrors

Styrofoam, packing peanuts, or bubble wrap

Loose caps and lids

Medical waste and sharps

Hoses, wires, chains

Flammables, compressed cylinders, batteries, electronics

Concrete

Motor oil containers

Garden pots and trays

Lightbulbs

Paper ice cream containers

Take-out packaging and containers


Disposal of electronics, appliances, furniture, tires, and more requires payment and special arrangements with Town and Country Sanitation.

Wisconsin residents must recycle used oil filters:
Used Oil Filters and Absorbents Landfill Ban Questions and Answers

How do I throw away hazardous materials?
Dispose of unwanted or damaged paints, varnishes, finish removers, kerosene, driveway sealant, and other chemicals and solvents at the Dane County Clean Sweep Facility, which is located at the landfill site and operates year-round.
Address: 7102 US Hwy 12, Madison, WI 53718
Across from Yahara Hills Golf Course

Landfill Phone: (608) 838-9555
Clean Sweep Phone: (608) 838-3212
For more information, hours, and instructions visit the website

Where can I dispose of electronics?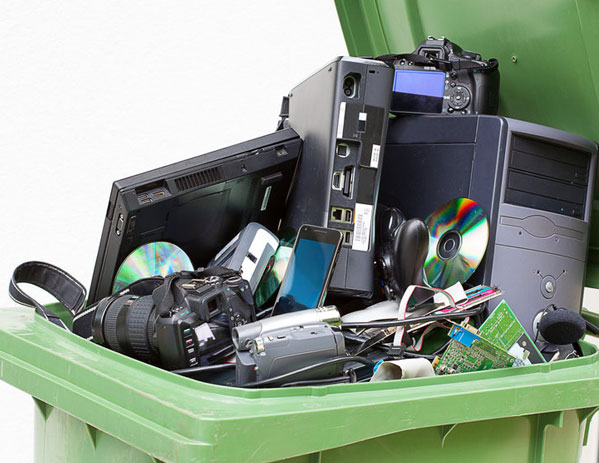 Beginning Sept 1, 2010, it is illegal to put these electronics in the trash in Wisconsin:
Cell Phones
Computers - desktop, laptop, notebook, and tablet
Computer monitors
Computer peripherals - keyboards, mice, hard drives, flash drives, external modems, speakers and other external input/output accessories
Desktop printers, including those that fax, scan or copy
Fax Machines
Televisions
Video recorders and players

Recycle electronics at the Dane County Clean Sweep Facility, which is located at the landfill site and operates year-round.
Address: 7102 US Hwy 12, Madison, WI 53718
Across from Yahara Hills Golf Course

Recycle farm plastic with revolutioncompany.com
They accept Silage and Grain Bags, Bunker covers, Greenhouse film
Phone (844) 490-7873 or email collections@revolutioncompany.com


Landfill Phone: (608) 838-9555
Clean Sweep Phone: (608) 838-3212
For more information, hours, and instructions visit the website:

The Dane County Landfill accepts mattresses and box springs.
https://landfill.countyofdane.com/services/landfill